James
"It's given me my smile back and it's really nice to smile and laugh with complete confidence"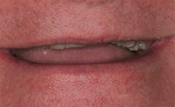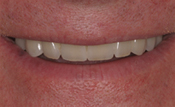 You go through life without realising what's happening to your teeth and over a number of years they get chipped and cracked and discoloured and in my case, very worn.
When I came to the practice to see Stephen he explained that I had a few options; I could have dentures or I could have my teeth built up with composite (white filling material) or I could have crowns fitted. I didn't want to wear dentures but felt a little bit uncomfortable about cosmetic treatment as I'm a bloke in my fifties, happy to spend money but not necessarily on myself.
Having spent time talking to Stephen I opted to have my teeth built up with composite as an interim measure, to see the results and decide if I wanted to progress to have crowns fitted. Gradually, I became less self conscious about doing something about my teeth and realised that although it was a "cosmetic process" it was much more than this; it would add to my quality of life and give me a much nicer smile. I progressed to having the full treatment plan and have had all-ceramic crowns fitted to all my teeth. It's given me my smile back and it's really nice to be able to smile and laugh with complete confidence.
I think a lot of people of my age are worried about coming to the dentist, but there's no need. It's a pleasure to come here, the staff are all very pleasant, they get to know you and work hard at every level to give you the results you want. It's been really worth the investment, I'm absolutely delighted with my new smile.