Christine
"Im really happy - it's given me the confidence to smile more and eat the foods I like"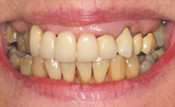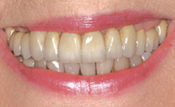 If I can have this treatment done at my age then anyone can. You get to a stage in life when all your teeth need sorting out. I could have had a denture but I really didn't want that. I wanted teeth that felt and looked as natural as possible.
I had an implant and the rest of my teeth are crowns and a bridge, I am very happy with the results, they look natural and you don't really notice them. Stephen and Joe worked hard to get the result I was looking for and it's given me the confidence to smile more and eat foods I like.
I would have probably ended up with a denture, but here at Moor Park it's about conservation and preservation rather than just taking your teeth out. I am really happy as I don't look like I've had a makeover, I've just got good teeth for a woman of my age.
By talking about my experiences, I'd like to encourage other women and men of my age to think about theirteeth and how they could really improve their quality of life. Nobody likes going to the dentist but Stephen and Joe were very good, they were very caring and the treatment wasn't painful.
It did take quite a lot of courage to come to the practice for the first time, everyone feels a little bit shy, you come in at your worst, feeling vulnerable to see a dentist you don't know and who might be critical. But Stephen and Joe weren't critical at all, they just explained clearly what could be done and the treatment options I had. I felt in control of the process throughout my treatment and it was a very positive experience.