Nick
"It's given me that little bit of extra confidence knowing my teeth look fantastic"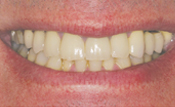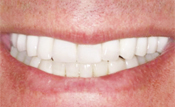 About 15 years ago I had some crown work done but was never very happy with it. I felt the shade of my teeth was too dark and some of the crowns had become chipped and damaged, so with Stephen and Joe's advice, I decided to have a comprehensive treatment programme that included implants, crowns and veneers. Although this was very extensive treatment, it was a very calm experience with a fantastic level of personal service.
I decided that I didn't want to be disappointed at any level and the quality of work and the colour of the final crowns were of the greatest importance to me. The last thing I wanted was to have all this treatment and then still not be happy with the colour or the materials used. The whole experience was amazing! The Moor Park team can do anything you desire in terms of colour and shape. I wanted very white teeth so I chose a very white (bleached) shade which I am really happy with. I also wanted the best quality materials possible and during visits to the practice I started to understand a lot more about the materials that could be used to make my teeth. The all-ceramic crowns and veneers I ultimately had fitted, have a base that is made from a super strong ceramic material rather than metal, so they won't show a black or grey line by my gums as old fashion crowns often do.
A lot of what I do involves meeting people and the benefit of smiling more has really added to my confidence, I wasn't lacking in confidence before but it's just given me that little bit extra knowing my teeth look fantastic.
Having this work done has been worth the investment. People spend money on holidays, cars and kitchens and like anything you can do this on a budget, but I wanted the reassurance of using highly trained professionals who supported me throughout the process and gave me back the smile I had when I was twenty!